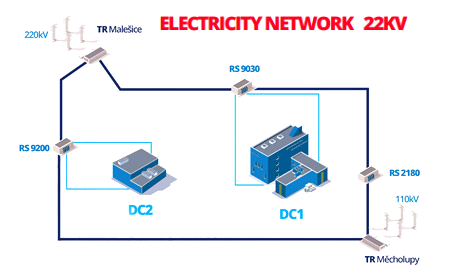 TTC DC1 DATA CENTRE
LOCALITY
The TTC DC1 covers an area of approx. 2 500 m2. It is a two-storey reinforced concrete building. The customer areas cover 1 600 m2 and are situated in eight data rooms. Offices and storage areas are also situated in the building.
HV POWER
TTC DC1 is powered by two independent 2x 10MW power connections at a voltage of 22kV. Backup power is provided by a total of four 5.4 MVA diesel generators in the N+1 configuration.
LV POWER
TTC DC1 has a total of four separate 22kV/400V power substations. Each substation has elements recommended by the Uptime Institute (N+1 configuration).
COOLING
Designed in line with the Uptime Institute standard. This means that the data centre redundancy on the source side is at least N+1 and at least N+1 on the distribution side.
SECURITY
Safety and security are covered by the following systems: EPS (Electronic Fire-Prevention System), SHZ (Fixed Fire Extinguishing Equipment), CCTV (Camera System) and EKV (Access System).